Obama plans to announce climate change strategy on last day in Alaska
Fact sheet outlining initiatives, including community grants and systems to counteract effects of global warming in Arctic, did not address oil drilling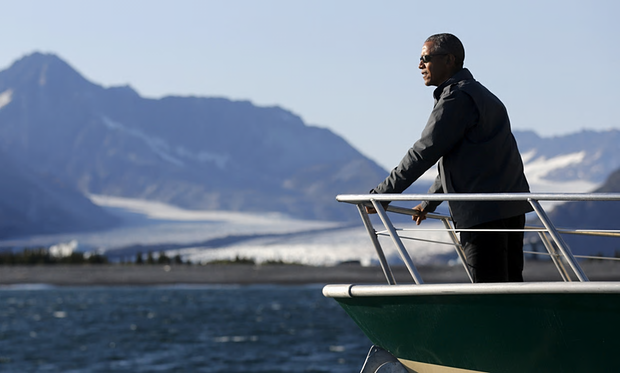 On the final day of his trip to Alaska, President Obama was set to announce a slate of initiatives to help remote Arctic communities beset by the effects of climate change.
The announcement also included measures to fight climate change, which is happening twice as quickly in Alaska as in the continental US.
In a visit to the small north-west Alaskan village of Kotzebue, Obama was set to announce a federal coordinator for response efforts in the region, myriad grants to increase community resources and systems to address the regional impact of climate change.
A fact sheet outlining the plans did not address the role or impact of oil drilling or shipping in the Arctic. This is particularly important for villages like Kotzebue, which is proximate to the Bering Strait, where melting ice has increased shipping and resulting jobs for Arctic residents.
Melting ice, however, has also left remote villages exposed to powerful storms; degrading permafrost has led to sinkholes.
"The Arctic is at the leading edge of climate change, a leading indicator of what the entire planet faces," Obama said on Tuesday.
He was set to meet local fisherman and families on Wednesday before returning to Washington.
Part of Obama's plans for rural communities include charging the Denali Commission with coordinating projects in the region to improve resilience against climate change. The independent federal agency was established in 1998; Obama has requested $14m for it in next year's budget.
Government agencies including the Department of Agriculture (USDA) and the Environmental Protection Agency (EPA) are providing grants to improve water systems and quality, based on recommendations by Alaska Native Tribal Health Consortium.
Other plans include increasing access to housing, improving mapping programs and developing plans for climate-related relocation.
The Guardian News
Copyright:

The Guardian News

Published on:

September 2, 2015

Source url: