Oil And Gas Industry Continues To Struggle
The locals hang out at a restaurant called Sweet Melissa's, where on a recent weekday the conversation topic was the economy, specifically the long decline of the oil and gas industry.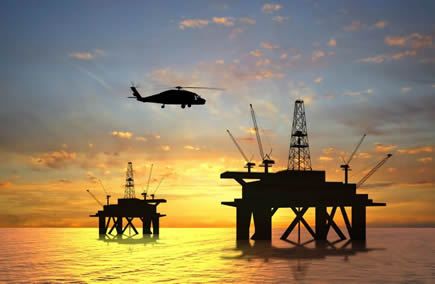 The coffee at the roadside restaurant was strong and hot, but the underlying fear was hotter and stronger. Many wonder what happened and what the future holds. Others worry about income and family.
Mike Lamp sipped coffee and explained the gas industry has been in decline for a year or more. First, he noticed the riggers were leaving, then the lack of large trucks on the road, and finally on Route 69, once filled with gas rigs, there was silence — the rigs just stopped pumping.
"It's daunting," he said. "We had two, three years of good jobs and income. Now, people are wondering if they can pay next month's electric bill."
Sitting in a corner booth, eating eggs and toast with grape jelly, Micky Thompson just looks at the menu written on a slab of coal. Thompson said he worked for an oil exploration company and was told he had a job for years to come, but in January he got the dreaded pink slip.
"I feel lied to. I was told the industry was going to be strong for at least 20 years," said the 34-year-old.
Now, he spends his day trying to find a job, spending time at the local library searching online and on Wednesday looking at the Help Wanted ads in the Wetzel Chronicle, the local paper.
Many here understand the country's oil and gas reserves are full, meaning there is no need for more supplies. However, what they don't understand is why last summer they were working 14 hours a day.
"If the gas companies knew the reserves were nearly full, why did we continue drilling? Look at the (mess) we are in now," said Roger Slider, an unemployed rigger.
Befuddlement is not limited to the morning coffee drinkers at Sweet Melissa's. Many in the industry are second-guessing the drill-baby-drill attitude of the last few years. The reserve capacity is now full at 4 trillion cubic feet. Now, energy companies are slashing their white-collar workforce, closing fields until further notice and some frackers are headed to Chapter 11 protection.
It's rumored that three of the larger oil and gas cracker plants slated for central Appalachia are now in jeopardy. The latest is the $5.7 billion plant originally slated for Belmont County, Ohio.
It's unclear what is going to happen to the $1 billion-plus cracker facility being considered by Odebrecht, a Brazil-based conglomerate, planned for Wood County.
"I have no real information on the status of the cracker (plant) discussed for Wood County. It is my understanding they continue to dismantle the existing facilities, pursue their appropriate environmental permits and prepare the site," said Charles Burd, executive director of the Independent Oil and Gas Association of West Virginia.
Burd said the state's industry mirrors the national situation, and low prices are driving the downturn, he said. The prices are expected to remain flat over the next two years.
"The oversupply and lack of markets has caused the Appalachian Basin Differential to levels exceeding a minus $1.40 in some months this past summer and may not get better than a minus $0.90 this winter. That alone is extremely impactful on all producers," he wrote in an email.
That is why riggers like Slider and Thompson are unemployed. Burd said the lack of markets has "virtually" halted new drilling, causing a number of companies to begin the process of reducing budgets and laying off non-essential workers.
For communities like Hundred, population 294, that was reliant on the gas fields, it can be devastating. The gas patch dollars enabled people to spend on lodging, food and hundreds of other items in the small town. Those dollars are mostly gone, as are those jobs. Wetzel County's unemployment rate has hovered around 10 percent for months.
However, said Burd, there are several oil and gas pipeline projects that once in service will transport several billion cubic feet of natural gas out of the Appalachian basin and into southern markets. Also, the Dominion Power-owned liquid natural gas plant in Maryland is scheduled to go online next year, which will also serve as an outlet for some natural gas producers, he said.
However, that is then. This is now. Last week two major announcements caused palpitation in the industry. First Chesapeake Energy announced it is cutting 15 percent of its workforce. In an email to employees CEO Doug Lawler wrote that the commodity price environment is a challenge to the company.
The other announcement hits West Virginia a bit harder. Stone Energy announced the company shut its Mary field in Wetzel County in September, leaving about 25 million cubic feet per day producing from the Heather and Buddy fields in Appalachia.
Analysts and others, including Burd, said a cold winter would help. He said there is a huge amount of natural gas waiting to be extracted.
"Pray for cold weather and Wind," Burd wrote.
The Register Herald
Copyright:

The Register Herald

Published on:

October 5, 2015

Source url: