Are Oil & Gas Operators Using Natural Gas As A Hedge?
The US rig count is down 56% from this time last year. The rig count decline has hit some areas harder than others.
For example the Bakken has lost more than three quarters of its rigs (figure 1). The Eagle Ford, Eaglebine, and Granite Wash plays also saw above average losses. Plays such as the Marcellus and Haynesville have fared better. One difference in these plays that could explain some the unbalance is oil to gas ratios. The areas faring better are gas plays. Are operators using natural gas production as a hedge against current oil prices?
The Gas Market
The closing WTI price in 2015 has averaged $50.82 per barrel. The average is likely to drop below $50 per barrel before the year's end. Not to say that natural gas prices have fared well, though the year over year price drop has been less severe for natural gas. Natural gas prices have been lower longer. So far, the Henry Hub natural gas spot price has averaged $2.80/MMBtu in 2015. The average closing Henry Hub price for natural gas in 2014 was $4.37/MMBtu and was $3.80/MMBtu in 2013. The Henry Hub and WTI spot prices are charted in Figure 2 on a semi-log scale to emphasize volatility.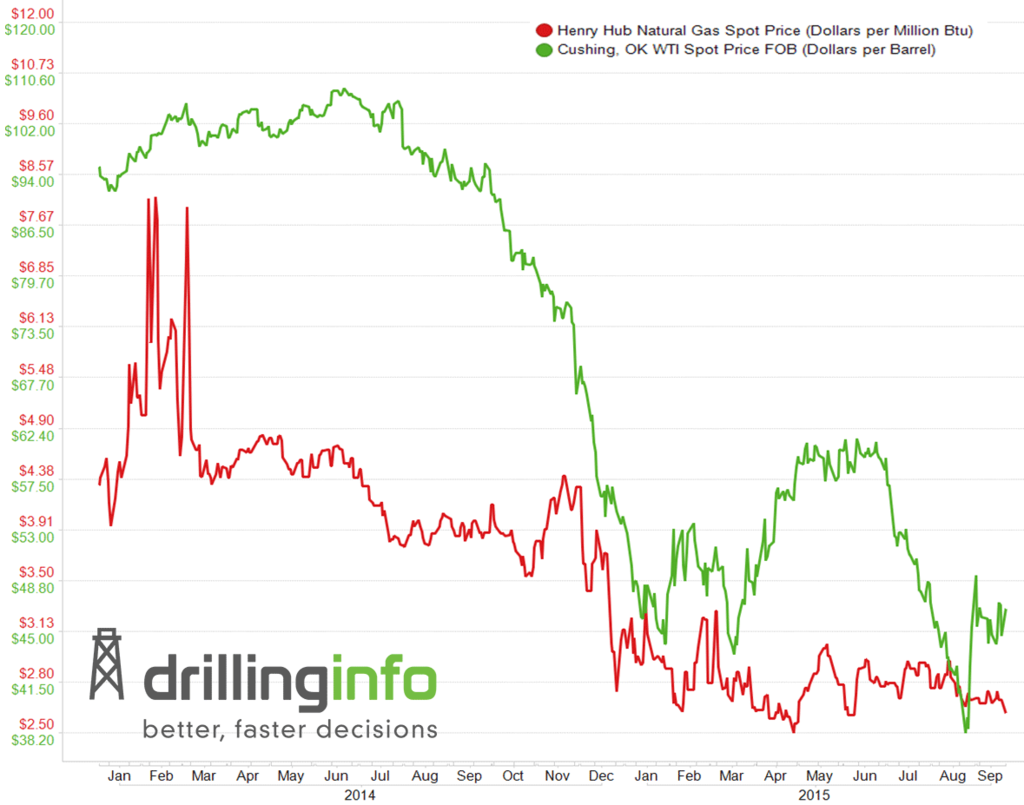 Source: U.S. Energy Information Administration
The demand for natural gas is much more weather dependent as mild weather decreases the need for cooling and heating, a major driver for demand. A severely cold winter like the one in 2014 could mean a windfall for natural gas producers. The working gas stock in 2014 reached its lowest levels in five years (figure 3), but quickly replenished. Natural gas in underground storage is up 15.7% over this time last year and up nearly 5% over the five-year average. The Farmers' Almanac is predicting another snowy and frigid winter for the Midwest and Northeast. It's nearly certain that the Henry Hub spot price will trend upwards through the end of the year as US home heating season begins.
Source: U.S. Energy Information Administration
$2.80/MMBtu is far from a paradise price for operators to make big moves on. The near term outlook is driven by Mother Nature, but the long term looks strong. In their 2015 Annual Energy Outlook, the EIA forecasts natural gas demand to grow by nearly 12% in 2040.
All drilling is subject to return on investment, with the emphasis on the now. The majority of natural gas still comes from mixed oil and gas wells. Different formations yield hydrocarbons in different proportions. Natural gas looks like it has more upside under the current conditions.
So… Are operators actually shifting focus to natural gas? Yes, it looks like it.
Forbes
Copyright:

Forbes

Published on:

October 5, 2015

Source url: