Suncor Offering $5 Billion for Canadian Oil Sands in Hostile Takeover Attempt
Suncor Energy (ticker: SU), Canada's largest oil and gas company in terms of market capitalization (roughly $38 billion), commenced a hostile takeover for Canadian Oil Sands Limited (ticker: COS) on October 5, 2015.
The unsolicited offer values COS outstanding shares at US$3.3 billion (CN$4.3 billion), representing a 43% premium compared to closing prices on October 2, 2015, and a 35% premium on a trailing 30-days share price average. The total value of the deal, including the assumption of existing debt, is approximately US$5.0 billion (CN$6.6 billion).
Shares of COS skyrocketed by more than 50% in day trading, closing above $9.00 for the first time since July 2015.
Canadian Oil Sands Primer
COS is the leading interest holder (about 37%) in Alberta's Syncrude project, which is Canada's largest single source producer. Five other companies have a stake in the massive project, including Suncor, who holds 12% ownership interest. In Q2'15, Syncrude averaged production volumes of 207 MBOPD from the oil sands operations and is backed by a non-declining production profile with 4.4 billion barrels of proved and probable reserves. Estimated reservoir recovery is greater than 90%.
Canadian Oil Sands is a pure-play in the Syncrude project, but Suncor, on the other hand, has multiple energy projects scattered throughout North America and overseas. Suncor's relationship with COS led to speculation that the former could potentially launch a takeover attempt. SU's footprint on the oil sands market is significant; the company reported Q2'15 volumes of 559.9 MBOPD, with oil sands operations contributing 448.7 MOBPD (about 80%).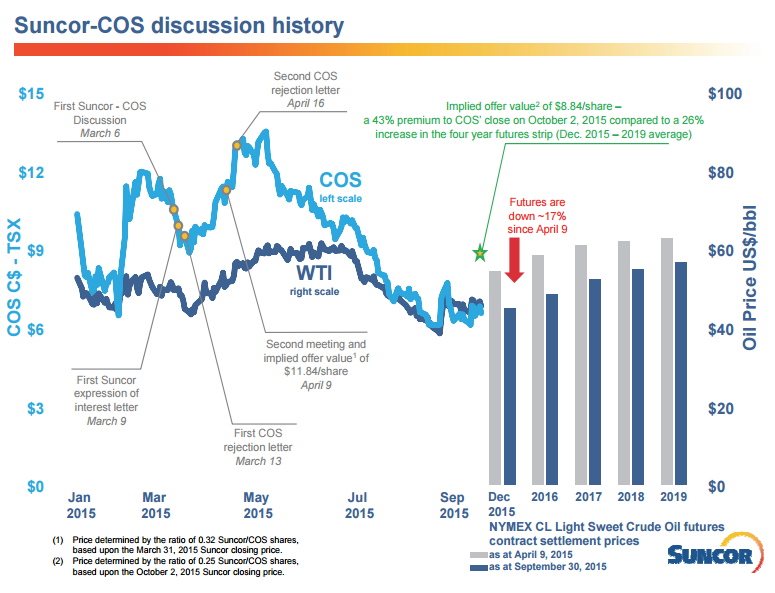 Canadian Oil Sands Balance Sheet
The oil price downturn has squeezed margins for COS, and the company took some significant steps to preserve liquidity in recent months. Its annual dividend allotment of CN$100 million is about 85% less than its 2014 dividend payout total of $678 million, and the company formed a Cost Analysis and Strategy Taskforce to identify potential savings. The identified reductions are expected to save anywhere from $260 to $400 million net to COS and will not impact its forecasted production range.
The company has assured shareholders that its capital expenditures and dividend payouts are secure in the new commodity environment. "Net debt is expected to decline through the balance of the year, now that the major maintenance is behind us, and we have no maturities due until 2019," said Ryan Kubik, President and Chief Executive Officer of COS. "Our credit facility provides us with sufficient liquidity to weather this period of low oil prices."
Other growth metrics have slowed, based on data from EnerCom's International E&P Weekly. Its EBITDA margin of 30% is below the industry median of 53% from 53 peer companies, while its net debt to trailing twelve months EBITDA ratio of 2.7x was above the median of 1.7x.
The company's net debt, as of June 30, 2015, rose to about $2.3 billion – up about 27% from year-end 2014's total of $1.8 billion. Oil prices and a weakening Canadian dollar led to the increase, but COS management expressed confidence in near-term liquidity by mentioning the company's net debt to total net capitalization was 36%.
Suncor's Case
In a presentation accompanying the announcement, Suncor acknowledged it has been in pursuit of COS since March 2015 and submitted two letters expressing acquisition interest. SU materials released today targeted COS' liquidity and long-term dividend as inhibitors to its future growth, highlighting SU's cash flow and industry strongholds as benefits. Canadian Oil Sands cut its dividend by 85% earlier this year to preserve liquidity, even though some analysts believe COS would be better off eliminating dividend entirely.
Accepting the Suncor offer, however, would increase the dividends of COS shareholders by 45% on a per-share basis. Suncor is also in the midst of a shareholder return program that has generated a five year compounded annual growth rate greater than 20%, and a repurchase program that bought back $5.3 billion of shares from 2011 to 2014. Suncor also brought to light its free cash flow superiority ($0.50 per share in H1'15, compared to negative free cash flow for COS) and its credit profile, which received a A- rating (strong) from Standard & Poor's compared to a BBB- rating (adequate) for COS.
Suncor's presentation highlighted its expertise in the oil sands industry as a major benefit for the merger, and added the combination would allow SU to escalate its interest in the Syncrude project to about 48%.
COS management responded to the unsolicited offer a few hours after SU's announcement, saying it will review the process. COS urged its shareholders to take no action at the moment and would make a recommendation "as soon as possible." If the takeover does in fact take place, COS shareholders will own 7.7% of SU shares as a result.
SU's offer is open for 60 days and expires on December 4, 2015. A source with Business New Network said the COS board was not going to accept the latest offer, leaving the next step in the hands of the shareholders.
Important disclosures: The information provided herein is believed to be reliable; however, EnerCom, Inc. makes no representation or warranty as to its completeness or accuracy. EnerCom's conclusions are based upon information gathered from sources deemed to be reliable. This note is not intended as an offer or solicitation for the purchase or sale of any security or financial instrument of any company mentioned in this note. This note was prepared for general circulation and does not provide investment recommendations specific to individual investors. All readers of the note must make their own investment decisions based upon their specific investment objectives and financial situation utilizing their own financial advisors as they deem necessary. Investors should consider a company's entire financial and operational structure in making any investment decisions. Past performance of any company discussed in this note should not be taken as an indication or guarantee of future results. EnerCom is a multi-disciplined management consulting services firm that regularly intends to seek business, or currently may be undertaking business, with companies covered on Oil & Gas 360®, and thereby seeks to receive compensation from these companies for its services. In addition, EnerCom, or its principals or employees, may have an economic interest in any of these companies. As a result, readers of EnerCom's Oil & Gas 360® should be aware that the firm may have a conflict of interest that could affect the objectivity of this note. EnerCom, or its principals or employees, may have an economic interest in any of the companies covered in this report or on Oil & Gas 360®. As a result, readers of EnerCom's reports or Oil & Gas 360® should be aware that the firm may have a conflict of interest that could affect the objectivity of this report.
Oil and Gas 360
Copyright:

Oil and Gas 360

Published on:

October 6, 2015

Source url: