Oil Prices Rally On Mideast Tensions And Slowing Shale Output
International oil benchmark Brent crude oil is on course for its biggest weekly gain in six years, as rising geopolitical tensions and signs of slowing output have brought buyers back to the market.
Brent has rallied by 11.7 per cent since last Friday's close to hit $54 a barrel, the highest since late August. US benchmark West Texas Intermediate has also rallied, gaining 11.3 per cent this week and moving above $50 a barrel for the first time since July.
The gains have come as Russia's military intervention in the Syrian conflict has added a new and uncertain dimension to tensions in the Middle East. US officials said on Thursday that four Russian missiles had fallen in Opec-member Iran — a Russian ally in the conflict in Syria. Its targeting of anti-Assad rebels is also pitting Moscow against the oil-rich Gulf states such as Saudi Arabia, which has backed many of the anti-Assad groups.
Ben van Beurden, Shell's chief executive, said this week that he saw "the first mixed signs" of a recovery in oil prices, which have more than halved since the summer of last year. Prices fell particularly sharply after Saudi-led Opec last November decided against reducing production in response to a US supply glut.
"Part of this week's rally has been due to some additional geopolitical premium being priced-in," said Olivier Jakob, oil analyst at Petromatrix in Zug, Switzerland. "It has been significant that oil prices have managed to continue a rally despite negative inputs," he added, pointing to a rise in US crude oil stocks last week and lower estimates of global growth.
Oil prices have taken some support from forecasts that US crude oil output could be on the cusp of a significant decline in the coming weeks. Shale executives speaking at London's annual Oil & Money gathering of industry heavyweights this week cautioned that the plunge in prices since last year was starting to have an impact on tight oil production.
Shale producers may still keep oil's gains in check, however. There are signs they have been hedging production for next year. The price difference between WTI for delivery in December 2015 and December 2016 has narrowed to just $3.40 a barrel, a sign producers in the US are happy to lock-in prices around the $55 level for next year.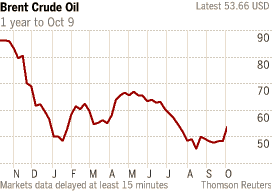 FT
Copyright:

FT

Published on:

October 9, 2015

Source url: