Oil Investors Gain Over $70 Billion In Best Week Since 2008
European oil companies are heading for the best weekly performance in seven years as they added about $74 billion in value following crude's surge past $50 a barrel.
The 23-member Stoxx Europe 600 Oil & Gas index has climbed 13 percent this week, the most since November 2008. Tullow Oil Plc, which operates oilfields in Africa, is the best performer with a 38 percent increase while Royal Dutch Shell Plc's A shares in London have advanced 13 percent, also heading for their biggest weekly gain in seven years.
Oil has rebounded this week with the U.S. benchmark going past $50 for the first time since July as output from the world's biggest consumer drops and Shell and Pacific Investment Management Co. said the worst may be over. That helped make energy companies the best performing industry group in the MSCI World index this week after languishing at the bottom for most of this year.
"The stocks have been oversold over the past year and that's helping the rally now," Jason Kenney, European head of oil and gas equity research at Banco Santander SA, said by phone from Edinburgh. "Question is where will oil prices settle now? Investors think oil companies can weather the storm because they've got so many levers to pull."
Cost Cutting
Even before crude slumped to a six-year low in August, oil companies were in the midst of programs to slash spending, halt projects and reduce their workforces to preserve cash and protect their balance sheets. Producers have deferred more than $200 billion of projects over the past 15 months, according to consultant Wood Mackenzie Ltd.
BP Plc reduced its spending forecast for this year to less than $20 billion after investing about $23 billion in 2014. Shell is cutting 6,500 jobs and plans to lower spending by $7 billion. U.S. explorers have idled more than half the country's oil rigs since last October.
"The higher share prices recently is because investors see the big oil companies delivering on their promise of cutting costs," said Pedro Antonio Merino Garcia, chief economist at Repsol SA, Spain's biggest oil producer, which has gained 15 percent this week. "Investors had oversold earlier, afraid of the outlook for oil prices. Over the last few days, they're more confident regarding oil supply and demand," he said Oct. 7 in London.
Eliminating Oversupply
Shell's Chief Executive Officer Ben Van Beurden was the first among oil majors' bosses to say this week he saw signs of a recovery. Cutting investment in oil exploration and production by a record 20 percent this year will eventually reduce or eliminate oversupply, IEA Executive Director Fatih Birol said in London Oct. 6. The industry will defer more major projects again next year, according to Ali Moshiri, Chevron Corp.'s president of exploration and production in Latin America and Africa.
Chevron, the second-biggest U.S. oil company, has gained 10 percent this week, heading for the best performance since December 2014. Exxon Mobil Corp., the world's biggest oil company by market value, has climbed 5.5 percent.
Services companies, among the worst affected as oil slumped, have returned more than 18 percent in Europe over the week, with shares of Petrofac Ltd. heading for a record weekly gain of almost 28 percent. Norway's Aker Solutions ASA also had its best weekly performance since it went public a year ago, soaring 25 percent.
Still Cautious
Oil may rise to a "baseline" of about $60 a barrel in one year's time as the impact of supply cuts becomes more evident from early 2016, Greg Sharenow, an executive vice-president at Pimco, said in an e-mail. U.S. crude output is down about 440,000 barrels a day from a four-decade high of 9.61 million barrels in June.
Still, companies remain cautious after a rally earlier this year was shortlived. While production cuts may help draw a line under the rout, prices are set to remain "lower for longer" because of excess inventories, according to Pimco, which manages $15 billion of commodity assets. Shell plans for a long stretch of low prices, Van Beurden said this week in London.
"People could be thinking, how much worse can it get from here, so there's a rotation from short positions to long," Michael Powell, a managing director of investment banking at Barclays Plc, said in London this week. "Then you ask, is this the spring of this year all over again?"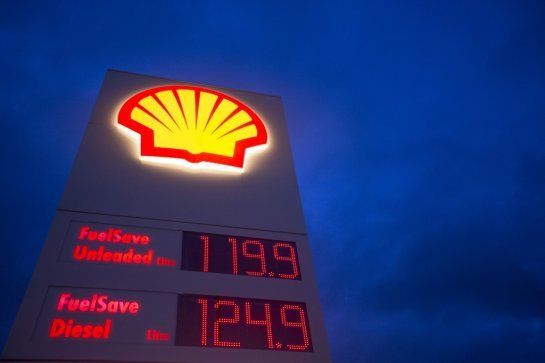 FuelFix
Copyright:

FuelFix

Published on:

October 9, 2015

Source url: